Our History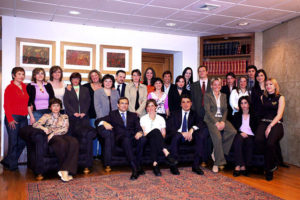 In 2001, from the shared intuition of the lawyers and friends Andrea Fioretti and Massimo Mannocchi, both specialists in banking law and in the assistance of institutional creditors, the "Studio Legale Mannocchi & Fioretti" was born.
The ideas were clear and the will of the two founders, shared by all the professionals who began this adventure with them, was very strong. It was the 1990s and the season of bank mergers had forced law firms to evolve in order to respond to the birth of large banking groups with massive litigation management needs.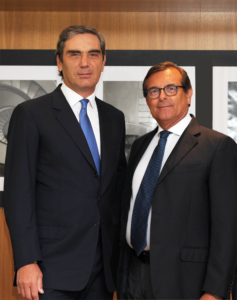 "In my opinion, aggregation was the best way to respond to the new market and to operate profitably in the emerging NPLs area, assisting investment banks and first private equity funds in the legal evaluations (due diligence and business plan) aimed at pricing the portfolios to be sold. I found in Massimo Mannocchi a similar vision and the common will to start a project characterized by the absolute competence of professionals in the practice areas, to whom I could offer possibilities of constant growth."

Lawyer Andrea Fioretti
We had to choose whether to continue to practice in the traditional way or to adopt an approach closer to the evolution of the figure of the lawyer.
"It was a very delicate choice, involving the decision to practice law in a modern and radically different way, abandoning the artisan character to take on the role of the legal entrepreneur."

Lawyer Massimo Mannocchi
Thus was born, from that little legal reality, what is now a fully grown MFLaw: a company that in its three offices in Rome, Milan (inaugurated in 2004) and Palermo (founded in 2019) see a team of more than 70 professionals, organized in multidisciplinary departments, engaged every day. A team united by sharing the same values and firmly believing in a common mission: to offer high-level assistance, always able to respond quickly and comprehensively to clients, always in strict compliance with the execution criteria encoded in our Quality Management System UNI EN ISO 9001:2015, the deontological rules and the code of ethics.
Our firm—which will celebrate its first 20 years of activity in April 2021—has always dealt with highly specialized practice areas, having identified credit recovery—both judicial and extrajudicial—in the management of bad loans, NPLs and UTPs, as its core business. The professionalism, the high-level assistance offered, the spirit of proactivity that has always distinguished the MFLaw team, together with the many initiatives in the name of sustainability and social responsibility, have contributed to the growth of the firm's reputation on the national and international scene. This reputation has been validated by the constant growth of MFLaw and the high rate of client retention, which is a source of pride for us today.
Twenty years on ,from the day the door of MFLaw opened for the first time, we feel assured about the road already travelled, but even more confident about the one to come.
#avvocatura4.0
#digitalizzazione
#sostenibilità
#innovazione
#welfare
#comunicazione
#proattività